■ How to choose a diamond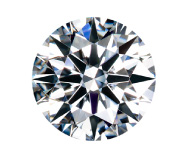 When purchasing a diamond, the basic principles to follow are the 4Cs, carat, color, clarity, and cut. In addition to the 4Cs, fluorescence also plays a part in how the balances of all these factors affect the brilliance of the stone.
Scarcity is one of the main factors in determining prices of diamonds,the harder it is to find the more expensive it is. So within the same price range you want to focus on
whether you're getting the weight you need as well as the
sparkle you need. The most popular choices for engagement
rings are of course high color and high clarity level stones.
■ The 4C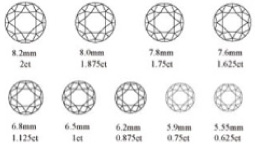 When dealing with diamonds or other gems, the unit of weight used are carats (ct), it is used to describe both "how big" and "how heavy" it is. One carat is the same as 0.200g, the larger or heavier the stone is, the scarcer it is and therefore the more expensive it is.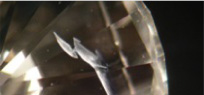 ■ INCLUSION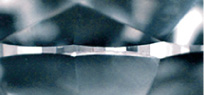 ■ Unpolished part remains

Using 10X magnification, you can identify whether there is a presence of inclusions in the stone and if so, how many, the size, the position and type of inclusion it is as well as any imperfections on the outer surface. All these factors contribute to the level of clarity a diamond receives, natural diamonds that do not include any such imperfections are extremely rare and are therefore extremely valuable.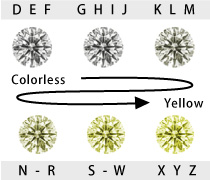 When most think of diamonds, they think of clear, colorless stones but in fact there are many colors and shades that occur in nature. It is through the comparison of these colors that we arrive at a color corresponding to the letters D through Z. D,E, F diamonds are considered colorless, G, H, I are nearly colorless while J, K, and L have a faint yellow tinge. Of course, the closer they are to being colorless,
the higher the prices.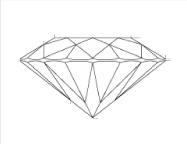 Diamonds in their rough form are not naturally light reflective, it is only after cutting and polishing that a stone's true brilliance shines through. In order to achieve maximum light reflection, every minor detail like how deep the pavilion is cut must be taken into account. In this sense, it can be said that the cut ultimately determines the brilliance of a diamond.
---
■ About Fluorescence

Fluorescence accounts for about 60% of all visible characteristics of a diamond, however under natural lighting it can appear a bit cloudy or make the stone shine less brilliantly. In recent years, diamonds with less fluorescence are much more popular than those with more.
---