Starting domestically in Japan, we created our own path to becoming a reputed second-hand jeweller with high quality goods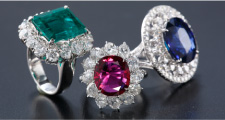 The 1980s in Japan was a time when gem stone and fine jewelry sales were booming. From these end consumers and jewelry manufacturers, our company is able to grab 60% of Japan's market share in recycled precious metals and gems. We routinely pick up a large number of high end jewelry of such good quality that you would never know was recycled.
A network of 14 branches around Japan and 5 overseas branches providing an assortment of goods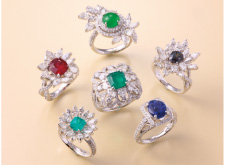 We regularly carry goods that prove to be timeless designs as their popularity is never influenced by fashion trends. These popular pieces are favourites among industry people and so we ensure availability using our large network of suppliers. We always strive to meet the needs of all our clients.
Popular jewelry pieces at reasonable prices
Jade pendants and coral rings are amongst the best sellers in Hong Kong.

For standard items
※Prices may differ even for pieces of the same design or color.
■ Jade / Coral / Diamond / Emerald / Ruby / Sapphire etc
■ Rings / Necklaces / Pendants / Bracelets etc.
---
Overseas exhibitions and quarterly shows in Hong Kong
Every year we participate in all 4 jewelry shows held in Hong Kong as well as in various overseas exhibitions as well.
We display thousands of items which garner great interest and reactions.


| | |
| --- | --- |
| MARCH | International Diamond, Gem & Pearl Show |
| | International Jewellery Show |
| JUNE | Jewellery & Gem Fair |
| SEPTEMBER | Jewellery & Gem Fair |
| NOVEMBER | International Jewelry Manufacturers' Show |

| | |
| --- | --- |
| JAPAN | International Jewellery Fair (Tokyo, Kobe, Yokohama),  |
| | Japan Jewellery Fair (Tokyo) |
| TAIWAN | Jewellery & Gem Fair |
| BANGKOK | Gem & Jewellery Fair |
| SINGAPORE | Jewellery & Gem Fair |
---